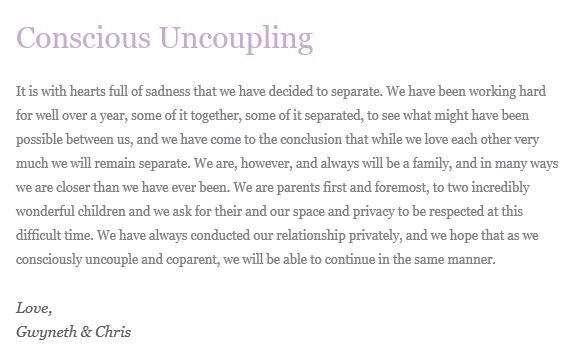 Gwyneth Paltrow is everything. I'm not going to say "spirit animal" because that's a term that has become too popular and I have no idea it what it means but I just think she's cool. How's that?
Case in point - even the manner in which she gets divorced is cool. Just cavalierly releasing a statement on her blog (she's a blogger! bloggers are cool!) in conjunction with a truly through provoking piece on the concept of marriage.
While you can read it for yourself here, the jist is that marriage originated when humans were dying in their thirties. Now that we live four times as long, marriage is unrealistic. The article says that when marriage fails, we feel like we failed, but that's not the case. The game was rigged. It goes on to talk about bugs skeletons and stuff that is a little out there but as a whole I buy into the message.
This is not to say that I want to get divorced. Danny is hilarious and I feel lucky to have him. (Most days.) He recently "surprised me" by installing brown (think feces) blinds in our guest room and I hated marriage and him that day.
As we all do, I also reflect on the experiences of people close to me when deliberating my position on marriage;
-Danny was married for a year and then divorced right before he met me.
-My parents divorced recently after 35 years causing an onslaught of reflection - specifically on child rearing.
-Kim Kardashian and The Hump divorced.
I guess my thesis is that despite being a happily married person and a romantic comedy addict - I concede that marriage might be a tad ambitious as a concept. Is that weird?
What do you guys think of it conscious uncoupling? Is it a PR "masters class" by Paltrow's team? Or is Gwyneth genuinely on to something?
Let's talk about it. I have nothing else to do today.
YOU'RE EXCLUSIVELY INVITED TO FOLLOW MY SOCIAL MEDIA ACCOUNTS!