Raise your hand if you've ever heard of Wayfair! Danny and I ordered an ottoman from them back in the day, before I had ever heard of them, and I was like "I hope this random company isn't some internet scandal puppeteered by Al Queda." But our ottoman showed up and it was awesome. (Operative word being was. Toddlers people. Their perseverance to ruin things is commendable.) Slowly but surely I started to see commercials for Wayfair and by the time I met their press team at Alt Summit I was well versed.
Recently I've became a blogger for Wayfair which means great things for me, and more importantly, for you dear reader. For me it means I got to go shopping. Wanting to add a pop of color and some much needed pizzaz to our house entryways I choose doormats in addition to
this sprinkler you recall from our Easter celebration.
And now its your turn. Go shopping at Wayfair! Just copy the link of what you'd want should you win, the name of the item, and your email address into my comments section. I'll pick one winner a week from today at noon.
*And because I'm a control freak, allow me to guide your shopping experience. These things were contenders in my shopping spree.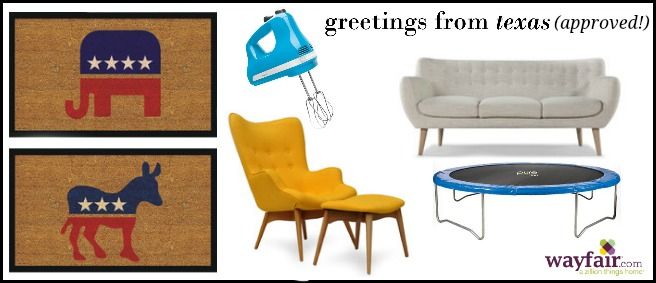 *Lastly, and this is random, but if you live in NY, Rhode Island, or Florida you can't enter due to state rules or something. Sorry Dad, you Floridian, you.
YOU'RE EXCLUSIVELY INVITED TO FOLLOW MY SOCIAL MEDIA ACCOUNTS!
*WAYFAIR DISCLAIMER
No purchase necessary. By leaving a comment you agree to the rules of this sweepstakes. Each comment to this post equals one entry and must include a name and valid email address to be eligible. A comment must link to a product from Wayfair.com to be considered for this sweepstakes. One entry per household. Limited to entrants over 18 in the US and Canada, residents of Florida, New York, and Rhode Island are ineligible to enter. Contest begins as of the time of this post and ends on May 7th. The winner will receive a Wayfair gift card/promo code, a retail value of $100 US. The number of eligible entries received will determine the odds of winning. All comments will be numbered in the order they are received and the winner will be chosen randomly by Megan SIlianoff using the Random Number Generator at random.org. Winner will be notified by email at the address given in their entry and must respond within 72 hours to receive their prize. If the winner does not respond within that time, a new winner will be chosen. The prize will be provided by Wayfair.com. Greetings from Texas is not responsible for any problems with receipt of the prize. This contest is governed by the rules of Massachusetts, void where prohibited. This sweepstakes is sponsored by Wayfair LLC, 177 Huntington Ave., Boston, MA, 02115.